Same day dispatch order in for UK delivery on
Contains
300mg CBD
Finest essential oils
All-natural
Soothing foot cream
0.0% THC
CBD Tired Foot Cream
Fight that tired feet feeling - whether you've been in high heels for a few hours or on your feet all day. This non-greasy, easy-to-apply cream is like a cloud for your feet!
,
Regular price

Sale price

£19.99 GBP

Unit price

per
There's nothing worse than finally putting your feet up, only to find they're angry at you! We know the feeling all too well which is why we developed a CBD tired foot cream to help. Not only does it soothe tired feet, it's easily absorbed while being non-greasy, lightweight and has 300mg of the high quality CBD we're famous for.

The all-natural formula is made with the finest essential oils while the inclusion of salicylic acid helps hydrate your feet and help the skin repair from the wear and tear of being on your feet all day. It's also perfectly suited for the balls of your feet for when you've been wearing those high heels! Massage it in, sit back and put your feet up. You deserve it!

Rosemary essential oil

We searched far and wide to find an ingredient that could help exhausted feet. Emerging studies suggest that rosemary oil may draw white blood cells to the area thereby soothing your feet.

Rosemary oil has also been used to relieve tired and stiff feet for centuries. Some yoga enthusiasts have a practice of rubbing rosemary oil onto the soles of their feet after each practice.

Peppermint & Camphor essential oil

These famous oils immediately soothe tired feet. It can be difficult to quite describe the sensation as they create a cooling, warming, and tingling effect all at the same time! However, they're perfectly suited for the delicate skin on the balls of your feet as well as the thicker heels. They've also been used for centuries as a herbal remedy to relieve tired and tender muscles and joints meaning you're covered for all situations.

Peppermint and camphor also have antibacterial and antifungal properties, which is particularly helpful if you're rubbing into someone else's feet (or if you get a loved one to rub it into yours)!

Eucalyptus essential oil

Eucalyptus oil is known for its relaxing properties. It's been added to the CBD tired foot cream as it provides additional help to soothe your overworked feet - heels, arches, ball, ankles and all!

Salicylic Acid

A little bit of salicylic acid goes a long way. This cult skin ingredient is well-known for providing deep-cleaning exfoliation and improving hydration which helps the skin heal. Along with the camphor and eucalyptus oil, it helps keep your feet soft and supple, while you massage the CBD tired foot cream into your inflamed feet. We've added just enough so you feel like you have your own personal foot spa from the comfort of your own home!

Moisturising

Our CBD cream for tired feet is highly moisturising. This is because it contains a mixture of both water and oil. This mixture is often known as an 'emulsion' because naturally oil and water do not combine, so an emulsifier is used to join the two ingredients together. This makes it fantastic for the skin on your feet - in fact, it even helps protect the skin from wear and tear which is particularly important for the heels and balls of your feet.

Tried, Tested, Trusted CBD

Our CBD tired foot cream contains 300mg high quality CBD with 0.0% THC giving you peace of mind about exactly what you're putting on your feet while you try to soothe them.

Apply and massage the CBD tired foot cream all around your feet until absorbed
Pay special attention to any problem areas depending on how your day has been (or night for that matter)
For example, if you've been in high heels then spend more time massaging it into the balls of your feet (you may even want to apply more there)
However, if you've been on your feet all day then you might want to focus on your heels
When ready, put your feet up and relax. Bliss!

Aqua, Prunus Amygdalus Dulcis Oil, Cetearyl Olivate, Vegetable Glycerin, Sorbitan Olivate, Glyceryl Stearate, Cetyl Alcohol, Benzyl Alcohol, Eucalyptus Globulus Leaf Oil, Cannabidiol, Cinnamomum Camphora Bark Oil, Tocopheryl Acetate, Mentha Piperita Oil, Salicylic Acid, Sorbic Acid, Rosmarinus Officinalis Leaf Oil. Allergens: Benzyl alcohol, Linalool, Limonene. For external use only. Do not leave in direct sunlight, store at room temperature.

We created our CBD tired foot cream because our community kept asking us to make it! Having become a cult brand within communities who have chronic pain, such as Endometriosis, Adenomyosis, PCOS, fibroids, and even IBS, we listen carefully to what our customers want - be it easy to take vitamins or bath products, to gels and balms to support daily movement.

As they've come to expect, we don't take that responsibility lightly. We set out to find the highest quality CBD with independent third-party laboratory testing, which contains zero THC (the ingredient in Cannabis known for getting you 'high') so you can rest assured that our CBD tired foot cream is completely safe, legal and quality-tested.
Trusted by Experts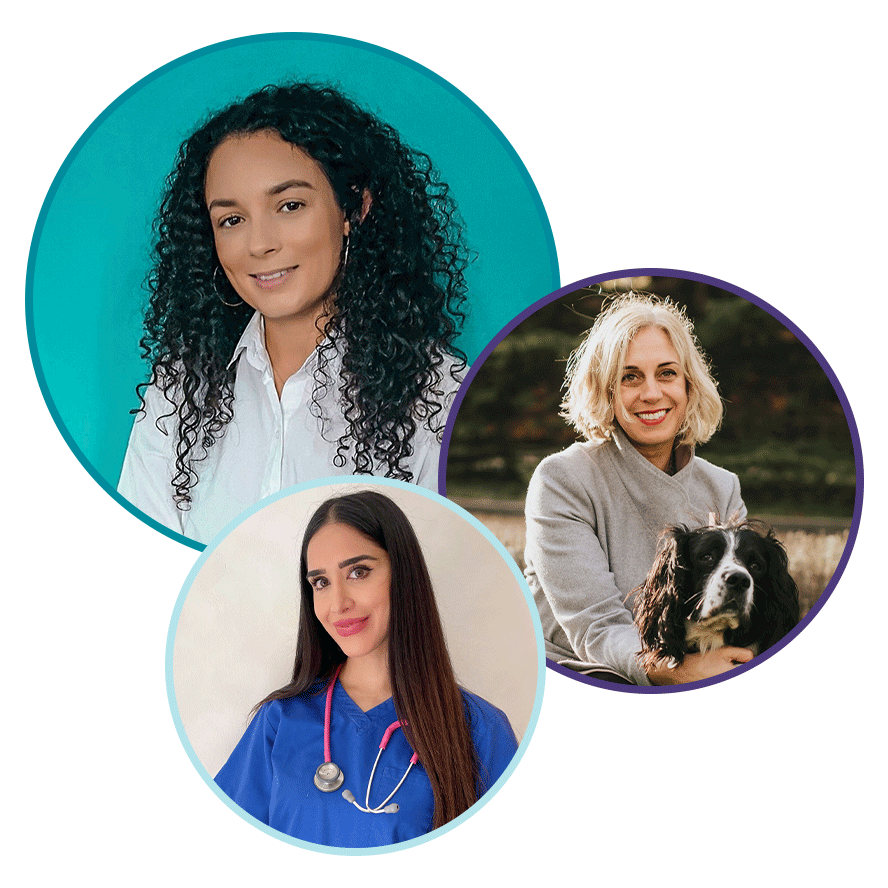 Trusted by Experts
We work with leading healthcare professionals who help guide our product innovation and clinical research. From gynaecologists and GPs to hormonal health specialists and clinical psychologists, we've got you covered!
Ask our experts
Start your CBD journey
We know getting started with CBD can be daunting so we're continuously adding to our blog with useful information and tips about CBD. Need a quick answer? Reach out to us directly and we'll be happy to answer any questions you have about CBD.
CBD Tired Foot Cream FAQs
Can I use this CBD tired foot cream on my legs?
No, the CBD tired foot cream is designed especially for the skin on the feet! You can go up to your ankles but it can get too intense if applied elsewhere.
Where should I use this CBD tired foot cream?
Use our CBD tired foot cream on the balls of your feet, the heels, and all around the feet if you need to. Remember to massage it into the area until absorbed before putting your feet up!
When should I use this CBD tired foot cream?
You can use it any time! We created it to be used when you get home after wearing high heels or after being on your feet all day but it's also flexible enough to be used whenever your feet are angry at you! It's also non-greasy so you can even use it before you go out and about, just be sure to rub it in properly so you don't get residue in your shoes!