Same day dispatch order in for UK delivery on
Contains
Lab tested CBD
Pure essential oils
Fast acting gel
All-natural
0.0% THC
CBD Muscle & Joint Gel
Our fast acting CBD gel is formulated to help restore mobility while soothing overworked or tired joints within minutes. Lovingly known as the BeYou magic CBD gel!
,
Regular price

Sale price

£19.99 GBP

Unit price

per
The BeYou CBD muscle and joint gel is designed for fast, targeted relief. It has 300mg of our industry-leading CBD, externally tested to ensure 0% THC (important because we count Olympic athletes among our customers). It also has a proprietary blend of the finest essential oils which provide our trademark cooling tingle. It's soothing, it's fast, it's magic!

As a CBD gel, it is formulated to help calm tired muscles and soothe joints without being greasy or messy. It's also incredibly versatile, use it before or after a workout, or even give it to your grandma!

Peppermint

While much of the research into peppermint oil has focused on chronically painful conditions such as IBS, it has been traditionally used for muscular discomfort and mobility for centuries. It works well in combination with the other oils in our formula because it is soothing on the skin and provides relief to overworked muscles and joints.

Camphor

Perfect for the joints, shoulders, and lower back, Camphor creates a cooling tingling sensation similar to peppermint. It is a key ingredient in many topicals because studies show it is easily absorbed, naturally anti-inflammatory and can help relax muscles and joints. This makes it an essential part of our CBD muscle and joint gel formula.

Rosemary Extract

Rosemary oil has been traditionally used to relieve joints and muscles for hundreds of years. Emerging research is also showing a wide range of benefits, from poor circulation to joint mobility and stiffness.

Eucalyptus Extract

Eucalyptus oil is a key ingredient in our CBD muscle and joint gel because it has natural anti-inflammatory properties owing to the presence of cineole. It is great for soothing tired joints and is absorbed easily because it has a relatively small molecular weight

Light and versatile

Our water-based CBD muscle and joint gel is as light as a feather - the lightest in our CBD body care range. It also has moisturising qualitites and works with the natural oil flow in your skin meaning it won't dry your skin out like other CBD active gels on the market.

Tried, Tested, Trusted CBD

Our CBD muscle and joint gel contains 300mg high quality CBD with 0.0% THC giving you peace of mind about exactly what lies within your CBD gel.

Apply the CBD muscle and joint gel on the desired area and massage it into the skin
Everybody is different with different sensitivities so use more as required
It's extremely versatile so you can use it almost anywhere - externally, of course

Aqua, Caprylic/Capric Triglyceride, Vegetable Glycerin, Phenoxyethanol, Glyceryl Stearate, Cetyl Alcohol, Eucalyptus Globulus Leaf Oil, Cannabidiol, Polyacrylic Acid, Triethanolamine, Cinnamomum Camphora Bark Oil, Tocopheryl Acetate, Mentha Piperita Oil, Rosmarinus Officinalis Leaf Oil. Allergens: Linalool, Limonene.

For external use only. Do not leave in direct sunlight, store at room temperature.

We created our CBD muscle and joint gel because our community kept asking us to make it! Having become a cult brand within communities who have chronic pain, such as Endometriosis, Adenomyosis, PCOS, fibroids, and even IBS, we listen carefully to what our customers want - be it easy to take vitamins or bath products, to creams and balms to support mobility.

As they've come to expect, we don't take that responsibility lightly. We set out to find the highest quality CBD with independent third-party laboratory testing, which contains zero THC (the ingredient in Cannabis known for getting you 'high') so you can rest assured that our CBD muscle and joint gel is completely safe, legal and quality-tested.
Trusted by Experts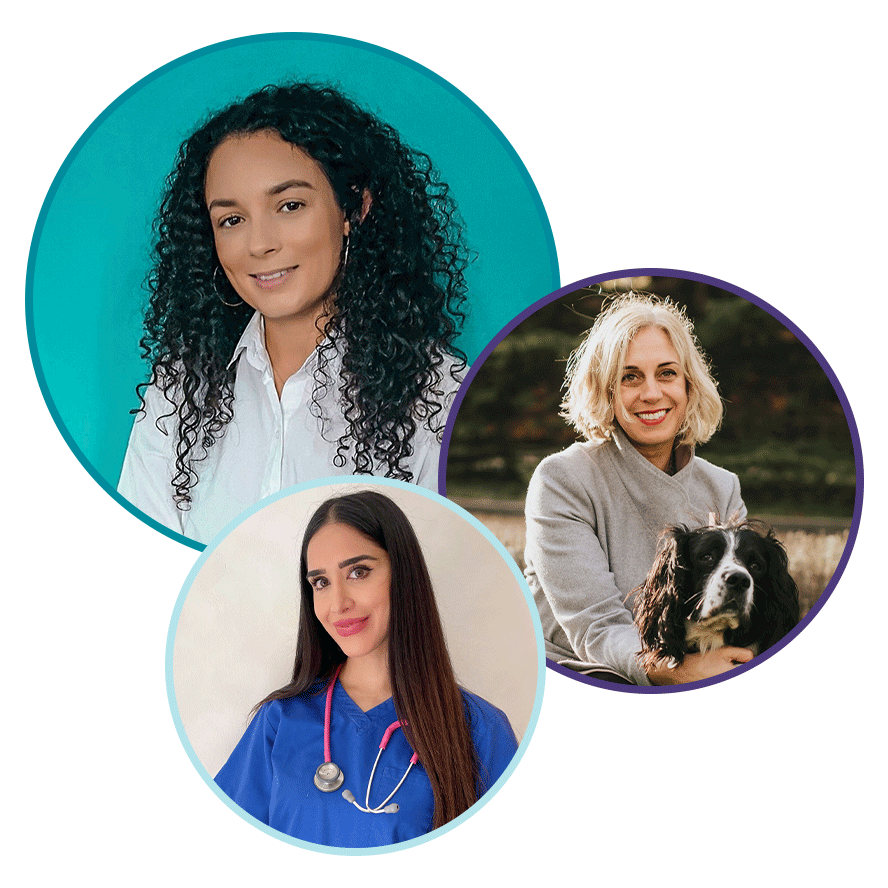 Trusted by Experts
We work with leading healthcare professionals who help guide our product innovation and clinical research. From gynaecologists and GPs to hormonal health specialists and clinical psychologists, we've got you covered!
Ask our experts
Start your CBD journey
We know getting started with CBD can be daunting so we're continuously adding to our blog with useful information and tips about CBD. Need a quick answer? Reach out to us directly and we'll be happy to answer any questions you have about CBD.
CBD Muscle & Joint Gel FAQs
Where should I use this CBD gel?
We created our CBD muscle and joint gel for easy absorption on and around joints, whether that's your knee, wrists, shoulder, elbows, or even hands! Application is simple, just massage the gel onto the desired area and rub it in. Note: Do not apply over cuts or grazes.
When should I use this CBD gel?
Whenever you need to! We advise using it over any muscles and joints whenever you feel they need some soothing relief. You can also apply it 30 minutes before you do something strenuous to help increase mobility! Use it as often as required, you can't overdose on it!